CLASSES
If you're interested in learning my process, I have several classes available on Skillshare! Use this link to get 1 free month of premium membership:
Finding your Style with Textures in Procreate
In this class, you'll learn how to develop your personal style by using a variety of textures. Learn to create with confidence and put your personal stamp on your illustrations in Procreate.
•Techniques for turning your inspiration into graphic shapes
•Tips for shading, adding details and blending modes in Procreate
•How to develop your personal style through the use of shapes and textures
❛❛
Highly recommended! An easy and fun way to learn how to include textures in your digital artworks, with great results.
— DENISE R
Create Your Own Stamp Brushes in Procreate
Learn how to make stamp brushes from scratch, while we create our own still life illustration with our stamp brushes. 
•The basics of the Brush Studio in Procreate
•How to make your stamp brush from scratch, with different adjustments
•Building up your still life illustration from start to finish
•A set of stampbrushes for Procreate
❛❛
Super fun class with lots of great info on making stamp brushes. The brush studio actually makes sense to me now! Thanks Claire!
— LORI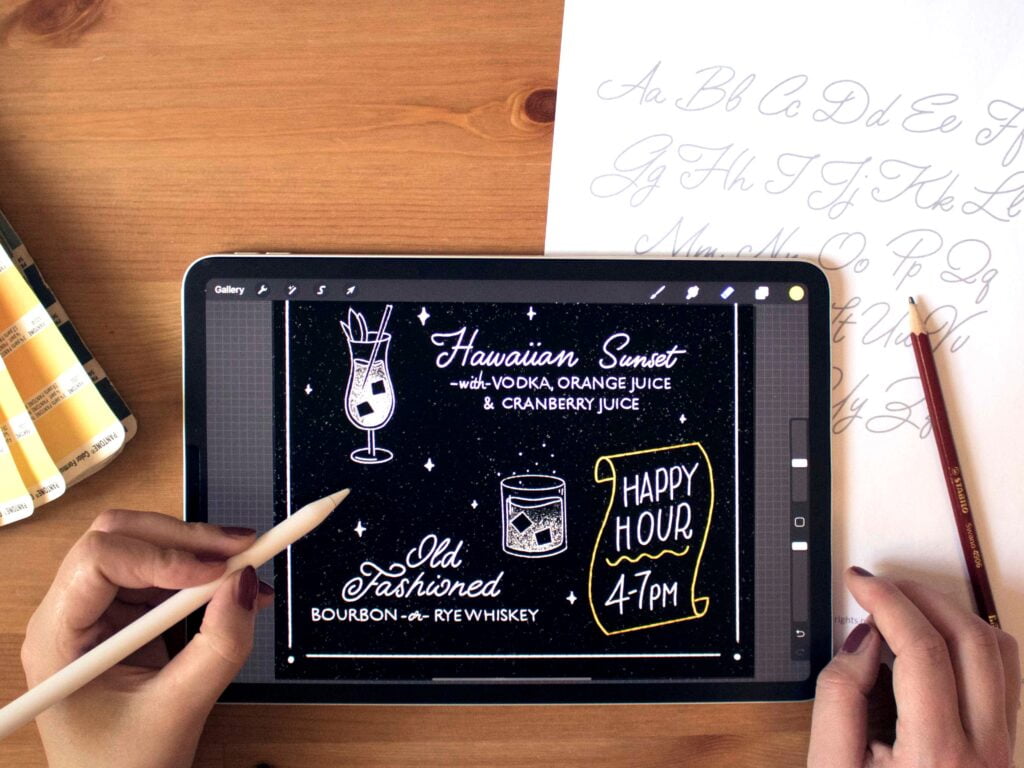 Create A Chalkboard in Procreate
Join me as I walk you through the process of creating your own, unique chalkboard menu design. You'll get tips and tricks to improve your workflow in Procreate, actionable steps for creating your composition and a set of resources to help you on your way.
•How to combine letters with illustrations in a cohesive design
•Techniques for giving your design a chalkboard look
•A quick solution for creating unique letters
•7 free chalk + stamp brushes
❛❛
A great class for those looking to improve their lettering and typographic composition skills. I really enjoyed Claire's way of teaching, it's easy to follow and engaging every step of the way.
— ANA
Procreate tips & resources for creatives and more
You can find Procreate tips, short tutorials and resources for artists in bitesized pieces on my blog. I'm also sharing resources that have helped me on the way as an artist, so you can start creating!
Get all the new thangs
Sign up to get early announcements about classes, freebies and special offers. New Procreate classes & resources will be shared with subscribers first!