Interview with Trena Brannon
Trena is a designer and illustrator, who teaches art techniques on Skillshare. She has many identities, including as an artist illustrating children's books. Recently, we had a virtual chat about her creative process. Read about her experience illustrating her first children's book and see what she has to share:
Hi Trena! What drew you to the world of children's book illustration? Is there a particular book or illustrator who inspired you?
As a child I loved picture books, I would try to draw what I saw. As a parent, I love reading all types of books to my children. We would all get excited looking at the illustrations. I remember thinking one day I would love to illustrate books that bring joy to children. Dr. Seuss has always been a favorite of mine. I dig the wonky illustrations and all the colors!
I interviewed Trena, and Trena interviewed me! Read a bit about how I started with lettering, my go-to tools and tips for beginners: The Do's and Don'ts of Short & Sweet Lettering
How did you get started with illustrating children's books?
In 2021, I was working full-time as an IT professional, drawing and coloring evenings and on the weekends. As with many people, during the pandemic, I took online classes in illustration, art, and design. I knew the fundamentals of Adobe Illustrator, Procreate, and a little about Photoshop.
One morning in the spring of 2021, I was online checking out a Facebook group I rarely had been to – I thought I'd check it out because it popped up in my feed. One of the posts was from a woman with a friend who was writing her second book and looking for an illustrator. Many thoughts ran through my mind. 'I should contact her!', 'You're not good enough to illustrate a book', 'What if she says no?' Bonnie Christine's words also popped into my head; 'Ten seconds of courage'. With that, I took a chance and sent an email. After a few email exchanges and a Zoom meeting, we formed a partnership – Hilda in Dubai, UAE, and me in Michigan, USA.
This was the very first children's book you illustrated. What are some challenges you faced and how did you manage to solve those?
A big challenge for me was experience! However I needed to start somewhere, so I started to do research on the process of illustrating children's books, in addition to increasing my Adobe skills. I did character studies from her first book and sketched new characters and scenes for the new book. Furthermore, I took Skillshare classes and watched many YouTube videos on Procreate, Photoshop, and InDesign. I also was very fortunate that Hilda's first book illustrator was helpful to me. I asked if it was possible to speak with her illustrator from the first book, and she said yes.
What specific materials or programs do you use for your process?
My sketches were on paper and in Procreate. I used Procreate and Photoshop to capture the final pages for print and InDesign for the book layout. Sometimes, you learn what you need on the way.
How do you balance your own creative input with the vision of the author or publisher when illustrating children's books?
Since Hilda is an independent author, the decisions are made by her – we did not have a third party to confer with. I walked into the project recognizing that this was her book and her vision, and I respected that. In our initial discussions, she said she wanted the book in the same style – expectations were set at the beginning. Along the way, a wonderful thing happened. At one of our check-in sessions, she asked me if I could add more color. 'Of course, I can!' I said with joy. She liked the updates and told me to feel free to add my style. The look of the book became a collaboration. Hilda gave me a lot of artistic freedom, like adding texture and bright colors.
What are some trends or changes you've noticed in the field of children's book illustration in recent years?
The illustrations are really poppin' these days! There's a lot of vibrancy. There's more inclusion – adding people with diverse looks and thoughts, different abilities, and different lifestyles, representing all the people in the world. On top of that, I've also seen more mixing of traditional art mediums and digital art, which is visually appealing. There are more children's books on managing our emotions, which give artists a bit of a challenge to capture what's going on in the story. It's a wonderful challenge – it helps me grow as an artist.
Related article: 10 MUST-HAVE RESOURCES FOR ILLUSTRATORS, CREATIVES, AND SURFACE PATTERN DESIGNERS: PART 2
What is your typical process for illustrating children's books? Where do you usually begin, and how do you develop your ideas?
I created two checklists that I use to guide me. First, capture important information from the author, e.g. age of the target audience, time and environment in which the story takes place, what the author wants the child to think and feel at the end of the story. As part of my checklist, I seek to understand the author's vision – what do they want the child to get out of the story, are there certain characters they want to look a certain way, etc. I share a summary to make sure I'm on the right track. When we have a check-in meeting to review the thumbnail layout, I confirm we are still headed in the same direction.
Secondly, a list of things for me to consider at the beginning and during the illustration process, e.g. research, layout of the book, creating thumbnail pages, illustration style for the story, character and scene studies. It's also important to set up regular meetings with your author to discuss work in progress, deliverables, and set a schedule. Check-in meetings and checklists are tools I brought from my corporate/higher education experience.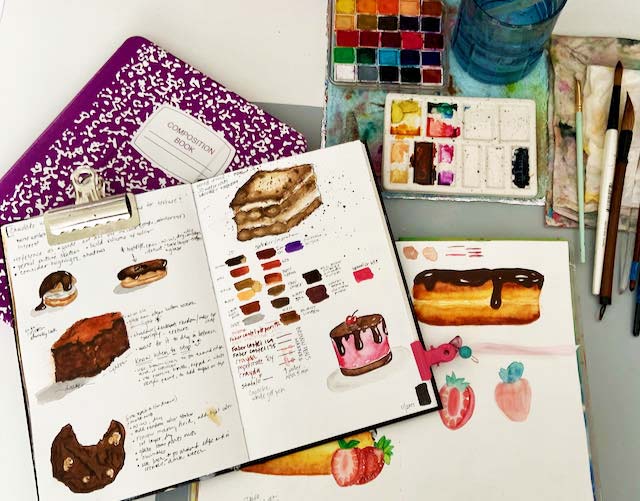 What advice would you give to aspiring children's book illustrators who are just starting their careers?
Suppose you want to start illustrating children's books but have not yet built a portfolio. I encourage you to network, research the industry, sharpen your skills, and look for opportunities. Once you make a connection, be sure to understand all the requirements – what exactly will you be delivering, on what dates, how many edits/feedback sessions will you commit to, what format will deliver in, etc. In the industry, you will be required to sign a contract. Read it, ask all the questions you have – make sure you understand it. It's very important to take some time to get to know the author, and anyone else who will be involved in the project. Are these people you want to work with? I also encourage you to think about the way you work. You are entering a new area.
My first experience was very positive. I believe that was because Hilda and I had a great working relationship. I respected her vision and she respected my opinion. Even though this was my first book illustration experience, I have life experiences that she valued. I loved working with Hilda. Our relationship started as a book project and has turned into a friendship.
Helpful Resources:
Interview with Trena Brannon
Trena is a designer and illustrator, based on Michigan, USA. She works on a variety of creative projects and teaches classes on creativity on Skillshare.
Find Trena here: Blog,  Instagram,  Skillshare