By Cody Alice Moore
Whether you work traditionally or completely digital, if you need to hand off artwork to a client it needs to be in a digital file format. It's not uncommon to find that illustrators and surface pattern designers prefer to work in either Photoshop or Illustrator when digitizing their artwork. This is often to the point that it becomes that only one is used at all costs. However, sometimes these preferences for working in one or the other can be limiting, especially considering the flexibility and versatility using both programs together can provide when creating artwork. Let's explore the ways traditional and digital media can be combined, lay out some workflow techniques for working between Photoshop and Illustrator, and outline some general guidelines for when to use each.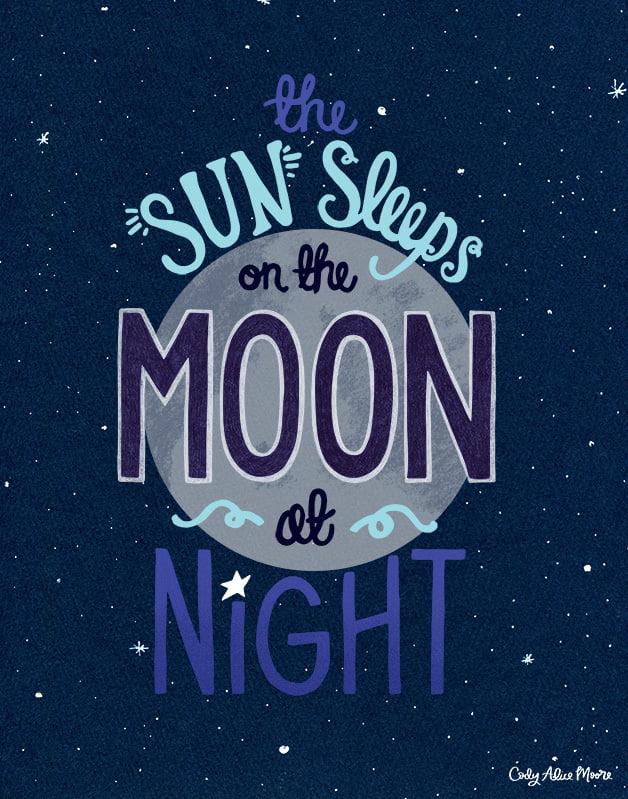 Combining traditional and digital media
One of the best benefits of using these programs together is that it allows you to more easily combine traditional and digital media to create illustrations, bringing the best of both worlds into your projects. A simple way to integrate the two mediums is by scanning or photographing sketches, paintings, drawings, or photos you've taken and bringing them into Photoshop or Illustrator to edit, add to, and refine. Tracing paper can be used to refine rough composites that were created in Photoshop or Illustrator and scanned again for finishing. This is a great technique to digitize your traditional work while still maintaining the essence of artwork that is created by hand.
The use of traditional elements with digitally created art allows you to bring out the unique qualities of both mediums.
Once you have your scan or photograph of your traditional art it can be used as a base layer and built upon with digital tools to further refine with subsequent layers on top. Or you can go more complex by picking certain hand-made elements of your traditionally created art to emphasize while making the remaining parts with only digital tools. The use of traditional elements with digitally created art allows you to bring out the unique qualities of both mediums.
Streamline your workflow between programs
Establishing a concise and organized workflow when working between Photoshop and Illustrator allows you to take advantage of the strengths of each program. Here are some techniques to try in working between the two:
Use Photoshop to edit and clean up your scans or photographs. You can also add textures and fine-tune the color of your images.

 If you would like to convert part or all of your raster image into a vector graphic, the Live Trace tool in Illustrator is a great resource to explore. You'll want to clean up your image as much as possible and work in only black and white to get a clean conversion.

You can place your PSD files into Illustrator and work on top of it. This allows you to modify the image in Illustrator while maintaining the original quality that the raster image provides. There's also an option to "Edit in Photoshop" or "Edit Original" to make changes to the raster graphic in Photoshop at any point if needed.

Related article: HOW TO COMBINE TRADITIONAL AND DIGITAL MEDIA – including what tools to use!
Once you are done working in Illustrator you can save it as a layered Photoshop file if preferred. You can also paste any work done in Illustrator as a vector layer into your Photoshop file. This allows you to maintain the vector editing capabilities when you double-click on the vector layer if you need to make any adjustments later.

Both Photoshop and Illustrator provide a Layers panel to organize the elements of your design. When working back and forth between the two programs it's good practice to keep your layers organized for ease in tracking changes you've made. You can also import the layers of PSD and AI files into both programs.

Bonus tip for Procreate users! A helpful technique is to first create your rough sketch or concept in Procreate, then finalize in Illustrator, Photoshop, or both. Using Procreate with a stylus pencil on a tablet allows you to take advantage of the qualities of working with a pencil and the variety of brushes that are available (some mimic traditional mediums such as watercolors or ink). Illustrator is great for creating vectors of lettering, simple shapes, or patterns and then using Photoshop for post-production and editing of any raster graphics.
Putting in place these workflow techniques will allow you to take advantage of the strengths of each program and minimize the time and effort to switch between them.
Pulling it all together: when to use Photoshop and Illustrator
So you may be wondering, how do I know when to use Photoshop or Illustrator? Keeping in mind the guidelines of the capabilities of each program is key. Photoshop is more applicable for working with photographs and raster-based images and is ideal for tasks such as photo editing and color correction. It's also best when working with complex compositions that involve multiple images, blending modes, and filters. Illustrator, on the other hand, is best suited for creating vector graphics, such as logos, illustrations, typography, and lettering. When creating artwork that involves a combination of images and graphics, it is often best to use both programs in conjunction with one another, taking advantage of each program's unique strengths.
It's definitely possible to use Photoshop and Illustrator together effectively for different aspects of the same piece of art; it's a matter of selecting the right tool for the job. Furthermore, since they are the most widely used programs in the world and the industry standard that's required by clients, they can provide a versatile and powerful workflow for creating dynamic and interesting designs.
Subscribe to my newsletter for updates on my art and writing!
Written by Cody Alice Moore
Cody is an artist, illustrator and surface designer based in Missouri, USA with 16 years of experience. Cody discovered surface design while working as an art buyer and since 2019 has been creating art full-time for her budding portfolio and growing collection of licensed designs.
Website: www.codyalicemoore.com
Instagram: @codyalicemoore