By Claire Makes Things and Cody Alice Moore
There's a multitude of resources out there to make work for creatives easier, but not a lot of guidance on how to use these programs to your advantage. This is a round-up of our favourite guides, pages and tools and how best to utilize them. We use these resources for our creative work, workflow as freelancers, online marketing and productivity. The majority of these resources are free to use, so you can try them out yourself. Here is the first part in a series of our recommendations for illustrators, creatives and surface pattern designers.
1. Trello
Claire: Trello is a management tool that lets you organize projects and collaborate with others. It's like a spreadsheet, to-do list, and task-tracking program all at once. I use it for all my tasks, as well as keeping track of projects and ideas. You can add due dates, and checklists, share projects with others, and more. My favourite thing about Trello is being able to get an overview of tasks in the form of cards. Every day, the cards reorganize themselves so the ones with the closest deadlines are at the top. This really helps to keep things organized for me.
Cody: I absolutely love using Trello for collaborating with others. It's an incredible tool that helps me stay organized by bringing all my notes, tasks, ideas, goals, and more into easily manageable workspaces. I create various boards based on the specific tasks I'm working on, like art creation, branding and goals, content creation, marketing, and planner, and the possibilities are endless. As Claire mentioned, Trello is fantastic for keeping everyone organized and on track by adding deadlines to tasks.
Related article: 10 MUST-HAVE RESOURCES FOR ILLUSTRATORS, CREATIVES, AND SURFACE PATTERN DESIGNERS: PART 2
2. Procreate
Cody: As an artist who has extensively used Procreate, I appreciate its standout feature: the customizable brushes. In my opinion, Procreate offers a superior brush library compared to Adobe Fresco, as the brushes in Procreate have a visually pleasing and natural look. The app's intuitive interface, coupled with the ability to fine-tune and customize each brush, provides me with a truly immersive and enjoyable drawing experience. Procreate has become my preferred choice for digital art creation, surpassing other apps in terms of brush quality and overall artistic expression.

Claire: Procreate is definitely my go-to digital illustration tool. I use it for most of my work and haven't really found a digital drawing app that can do as much as Procreate does. I specifically like the way I can organize and create new brushes, this is a huge plus. Another plus for me is that you pay for the app once, so no monthly costs.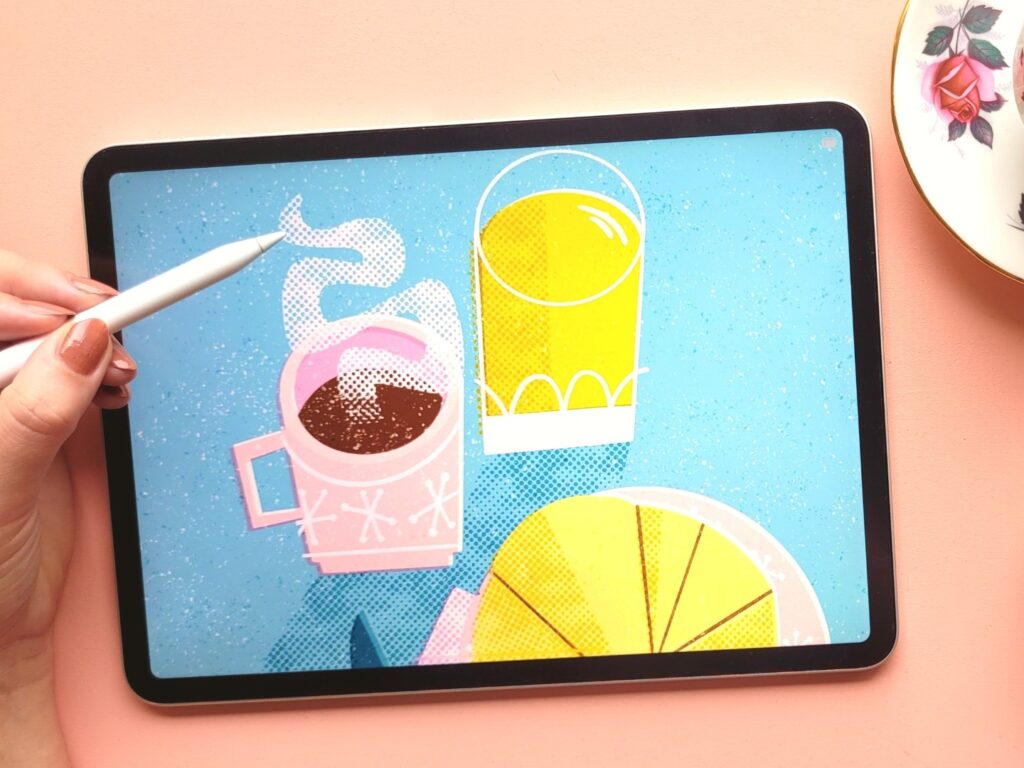 3. The Illustrator's Circle
Claire: If you've heard of 'They Draw and Cook / and Travel / and Garden' and 'Illustrators for hire' you probably know The Illustrators Circle, which is created by the same team. They offer online drawing sessions, tutorials, interviews, and more. I check out their tutorials now and then, which I enjoy taking. The tutorials are short and easy to follow, hosted by a variety of professionals in the industry. Plus, there are a bunch of interesting prompts available as tutorials too (10 Ways to Draw Broccoli? Yes please!).
4. Pinterest
Claire: With other social media platforms giving a lot of uncertainty (looking at you, Instagram), Pinterest has been a stable force. I use it to save and collect inspiration (publicly, or on secret boards), as well as to show off my own illustrations to the world. The advantage of Pinterest is that it values images, as well as videos, and doesn't bury your posts as quickly as for example Instagram would over time. What I do is reuse my Instagram reels, repin my artwork, and add new work onto boards (and schedule these over the upcoming month), with links attached to them to my website, blog, and classes. Each month, I check the analytics to get an insight into what kind of content people enjoy and try to do more of that. Don't underestimate the traffic Pinterest can give you if you're looking to market your work!

Cody: I absolutely love using Pinterest for creating mood boards and conducting research at the beginning of an illustration or surface pattern design project. I've been using Pinterest since its early days when it was invite-only, and I was overjoyed when they introduced secret boards. One of the features I particularly enjoy is the ability to organize boards into sections, which helps me keep everything organized and prevent it from becoming too chaotic. For example, I was able to divide my Vintage Inspiration board into two sections for Vintage Valentine and Vintage Christmas, making it much more manageable. While I primarily use Pinterest for inspiration purposes at the moment, I'm aware that there are untapped SEO and marketing possibilities that I haven't explored yet, but I'm looking forward to delving into them in the future!
5. Airtable
Cody: Airtable is a unique platform that combines the functionalities of a database and a spreadsheet, creating a powerful organizational tool. It offers a wide range of viewing options, including Kanban, calendar, grid, form, gallery, and more, allowing you to visualize and interact with your data in various ways. It goes beyond traditional spreadsheet capabilities by offering versatile ways to display and manipulate information. I rely on Airtable for multiple purposes, such as organizing my portfolio, managing brand assets, planning out my newsletters, and much more. The flexibility and customizable features make it an invaluable resource for streamlining various aspects of my work.
6. Retrosupply
Claire: Retrosupply does tutorials, fonts, lettering resources, brushes, and more. I love their brushes for Procreate (especially the Midcentury pack), plus, they also create brushes for Photoshop, Illustrator, Affinity, and more. They usually do live drawing sessions on Instagram and hand out free samples in their newsletter. Once a year, in October, they do a big drawing challenge called Fright Fall, for which they'll usually hand out some free brushes to experiment with.
7. Google Workspace
Cody: Google Workspace is an all-inclusive suite of productivity tools that's similar to free Gmail but specifically designed for business use. One of the standout advantages of Google Workspace is the ability to customize your email domain name, giving your communication a professional edge.
I personally find Google Workspace to be an indispensable resource for various tasks. I rely on its built-in task assignment feature to efficiently manage my to-do lists. Moreover, the versatile calendar functionality allows me to create multiple calendars that can be shared with others. Among the array of features offered by Google Workspace, my personal favourite is Streak—an add-on that notifies me when recipients view my emails. This invaluable feature provides insights into recipient engagement, especially when I'm contacting potential art buyers for collaboration opportunities.
8. Calendly
Claire: If you regularly meet with clients or need to set meetings, Calendly is a lifesaver. No more back and forth discussing 'what time works best for you?', instead, you just send them your calendar and they pick a time. This one has saved me so much time and effort (and unnecessary emails). You can integrate your Calendly with your Google Calendar and Zoom, so everything is taken care of automatically. To make individual calendars, Calendly is free.
Cody: I recently started using Calendly, and I must say, I'm already a huge fan. Just like Claire mentioned, I love how it eliminates the back-and-forth when it comes to finding the best meeting time. It's been incredibly convenient for scheduling meetings despite being separated by the Atlantic Ocean! One feature that I particularly appreciate is the ability to create a daily schedule, blocking off specific times when I can't or don't want to have meetings.

Additionally, Calendly offers further customization options, allowing you to adapt your schedule on the go when unexpected events arise. Another great aspect is the flexibility to choose whether you display your availability on a monthly or yearly basis, giving you the freedom to adjust it as needed.
9. Youtube
Cody: YouTube has become my go-to resource for answering any questions related to my art and business. Whether I need guidance on a particular technique, insights into art marketing strategies, or tips for improving my creative process, YouTube offers a vast repository of informative and educational content. What makes it even more fascinating is the presence of artist vlogs, where I can immerse myself in the diverse approaches and perspectives of fellow artists. Watching these vlogs not only entertains me but also provides valuable inspiration as I witness the unique ways in which artists approach their work. Some of my favourites to watch:

Claire: Having your own Youtube channel is useful when you want to show up in search results. I don't put a lot of effort into my own Youtube channel, but I still like having it, because I can upload quick trailers for classes, Youtube shorts, and live videos. These will still show up in searches if people are looking for that specific topic, and I don't need to put much too much energy into it. Up until recently, you needed 100+ subscribers to be able to create a custom URL for your channel, but luckily, you don't need that anymore, which is a plus. This makes it a lot easier for your channel to be found, get mentioned, and simplify conversations.

10. MailChimp
Cody: I rely on Mailchimp to manage my newsletter, segmenting my subscriber list into art buyers and fellow artists/fans. This allows me to tailor content to specific audiences. One feature I love is the customizable sign-up forms, which I can easily embed on my website or share as links. This flexibility helps me capture new subscribers effortlessly. Despite using Mailchimp for a while, I feel like I've only scratched the surface of its capabilities. Recently, I automated list segmentation by setting up sign-up forms on my website, prompting users to specify if they are art buyers. This saves me time and streamlines my workflow.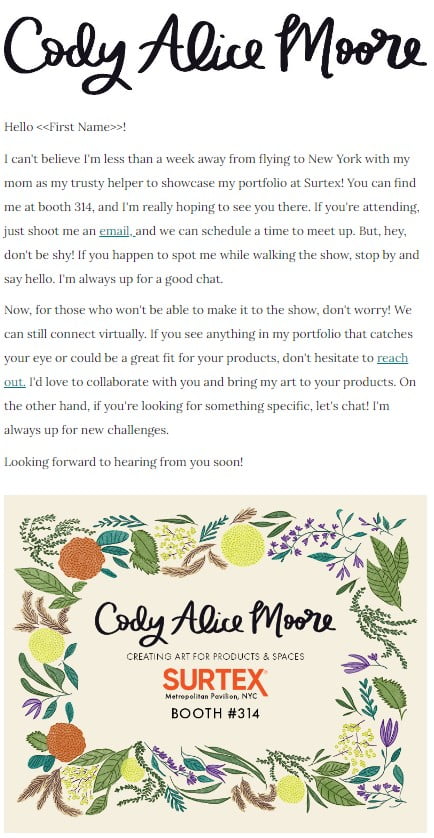 This is the first part of a series about resources for illustrators, creatives and surface pattern designers, that we love using and think would be helpful for others. The downloadable guide is an overview of all the resources mentioned! You can read Part 2 here.
UNLOCK YOUR CREATIVE POTENTIAL WITH BRUSHING UP'S MUST-HAVE GUIDE
This guide is a treasure trove of indispensable tools, resources, and insider tips specially curated for illustrators, surface designers, and artists like you. Here's what you'll discover inside:
Essential Tools
Productivity Boosters
Freelancer Insights
Online Marketing Mastery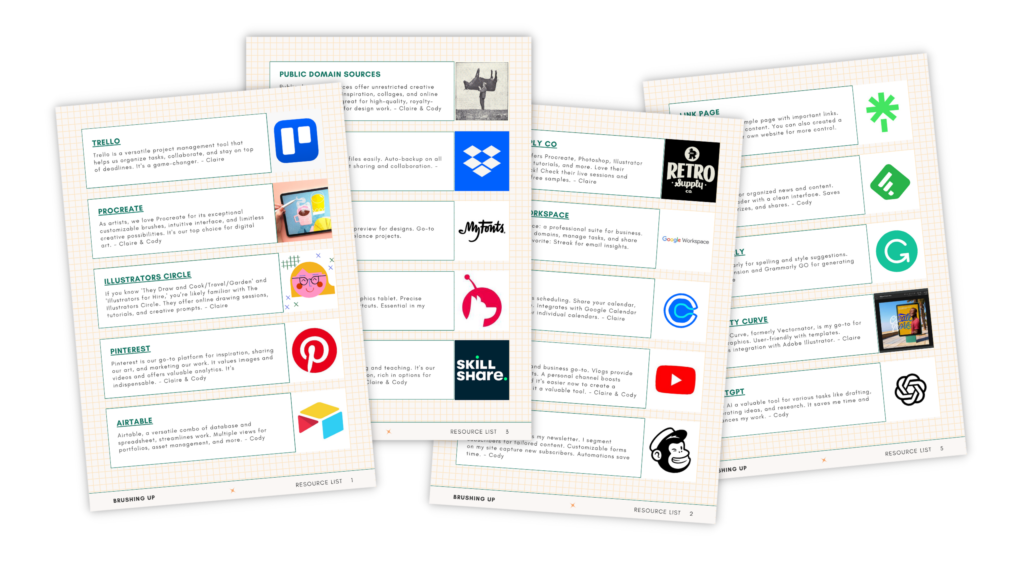 Co-written by Cody Alice Moore
Cody is an artist, illustrator and surface designer based in Missouri, USA with 16 years of experience. Cody discovered surface design while working as an art buyer and since 2019 has been creating art full-time for her budding portfolio and growing collection of licensed designs.
Website: www.codyalicemoore.com
Instagram: @codyalicemoore