Over the last few years, more and more learning has moved online. I am a big fan of learning and developing my skills as an illustrator through online classes because it allows me to learn from others, when I want to, without having to think about showing up to class. I mostly use Skillshare for learning (and for my teaching!), but there are lots of options out there to learn in a personalized way.
Over the past year, there have been a few classes that have stood out for me; not just because they were valuable, but also because they were fun, or great to look at if you don't have a lot of time, or because they're taught by outstanding teachers. These cover a few topics that I think are valuable, especially for illustrators, and that have helped me to improve and develop. So here are 10 classes that have helped me become a better illustrator:
1. Sketching in Red and Blue
If you need some tips on how to start sketching, then this class by Barbara Bernat is perfect. In my last blog post, I talked about creative habits and how to stick to them (How to develop creative habits in 4 steps), which includes building a sketching habit. Sketching by hand helps to step away from the iPad every now and then, get a new perspective and develop your drawing skills, without distractions. This class helped me to keep drawing consistently, and stick to one thing in order to keep sketching and not give up. I started a new sketchbook and got lots of great tips and prompts from this class. It's short & super informative. Check it out here:
Don't have Skillshare yet? The links in this post will take you to the classes and a 1 month trial.
2. All About Letters
Paul Oxborrow is a fantastic teacher and Lego typography expert. His most recent class is all about typography and how modular letters work, which was also enjoyable as just a class to listen to and learn from. He'll demonstrate how to make your own letters using Lego, while learning about alphabets and design.
Quick note: Learning the 'why'
Some of these classes are focused on Procreate, since that's what I use most of the time. However, most of them can be done with whatever materials you have on hand. It really helps to find teachers (and classes) that focus on the 'why?' behind their work rather than just the 'how' and 'what' of certain skills. This means they'll go deeper than just showing you how a thing works, so that you can apply these skills to your own projects.
3. Connect How You Draw with How You Illustrate
Even though illustrator Tom Froese has a new class on sketching, I'd like to recommend one of his other classes I took this year. I love Tom's editorial work and learn a lot from his classes. He starts with an in-depth explanation of how drawing connects to illustration, which a lot of people (including myself) struggle with or need to keep working on. He explains his process well, but also explains the why behind the visuals, which is a huge bonus. It's a long one, 3 hours to be exact, but really worth checking out, whether you're a beginner or an experienced illustrator.
4. Retro Holiday Desserts
Jutta has a passion for everything retro and that makes me very very happy. She explains how things work in Procreate, but also gives clear instructions on how to recreate something visually really well. I enjoyed having the freedom to create something from scratch, while still following very clear steps. She also collected a range of interesting visuals in her Pinterest boards and shares lots of Procreate brushes so you can follow along.
5. More Sketchbooks
I'm a big fan of Esther Nariyoshi's work and her classes on Skillshare. Her illustrations are very playful and colourful, and she explains how she makes her work very thoroughly. Her new sketchbook classes have some really fun prompts you can do when you don't have a lot of time.
6. Productivity power
Sometimes, you just need a good productivity class to kick your butt. This one, by Rich Armstrong, is quick and kind of perfect to start the new year with, when you're writing out your goals. I'd also suggest his other class: Just Start: 5 Exercises That Lead To Big Wins, because that one has helped me make positive changes to my work and process. It shows you how to divide big projects into smaller tasks, and covers the basics of managing projects. Short and sweet as well.
Related article: 10 MUST-HAVE RESOURCES FOR ILLUSTRATORS, CREATIVES, AND SURFACE PATTERN DESIGNERS: PART 1
7. Playing with Shapes
The graphic take on still life illustrations that Sarah Beth Morgan has is exceptional, and I love her work. To learn to draw in a more graphic manner isn't easy, and she explains it really well. , Again, this is one of those classes that use Procreate as a tool, but focuses on illustration and interpretation skills, which will teach to become a better illustrator, even if you only try this particular illustration process once. It also makes it easier for you to replicate the same process again in your own illustration process. Have a look at her other classes too.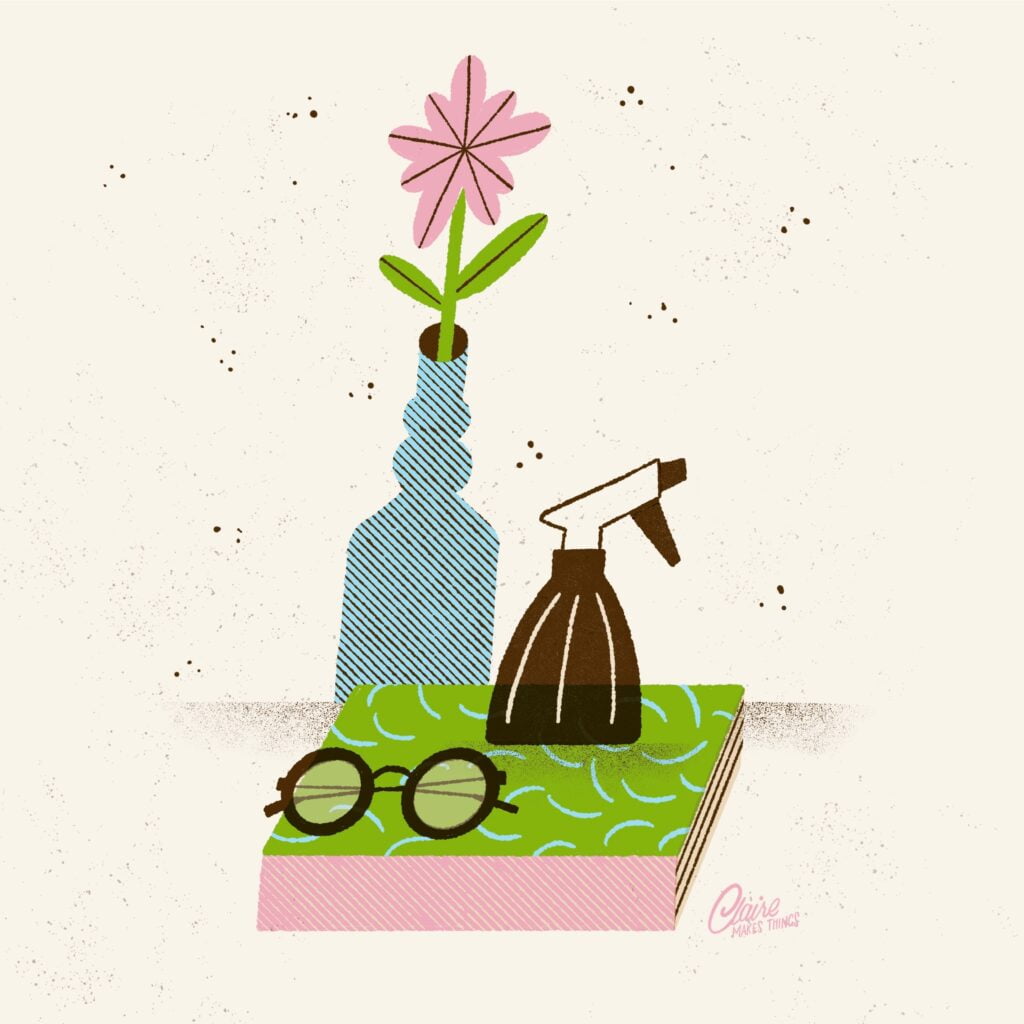 8. Lettering & Illustration
I have to admit, I struggle with lettering quite often. I kinda suck at it. Basically, I still have a lot of learning to do, so I regularly look at Mary Kate McDevitt's classes to brush up on my lettering skills. Her work is a perfect combo of lettering and illustration, and she explains how to work with lettering from scratch really clearly. Is this particular class you learn how to combine illustration with lettering in the theme of an animal. It doesn't require an iPad to get started, since it's mostly focused on the brainstorming and sketching phase, which is a huge plus.
9. Magical self-portraits
I was initially looking for a class to learn the ins and outs of Adobe Fresco. Then I stumbled upon this one by Lisk Feng, which actually teaches you so much more than just the program. I forgot I was learning new software (big ick for me), and was focused on how to mix colours and how to create a self-portrait (which I'm so proud of, even if it is a bit messy and my very first thing in Adobe fresco). Highly recommended. Also, have a look at the student projects; they're truly inspiring and magical.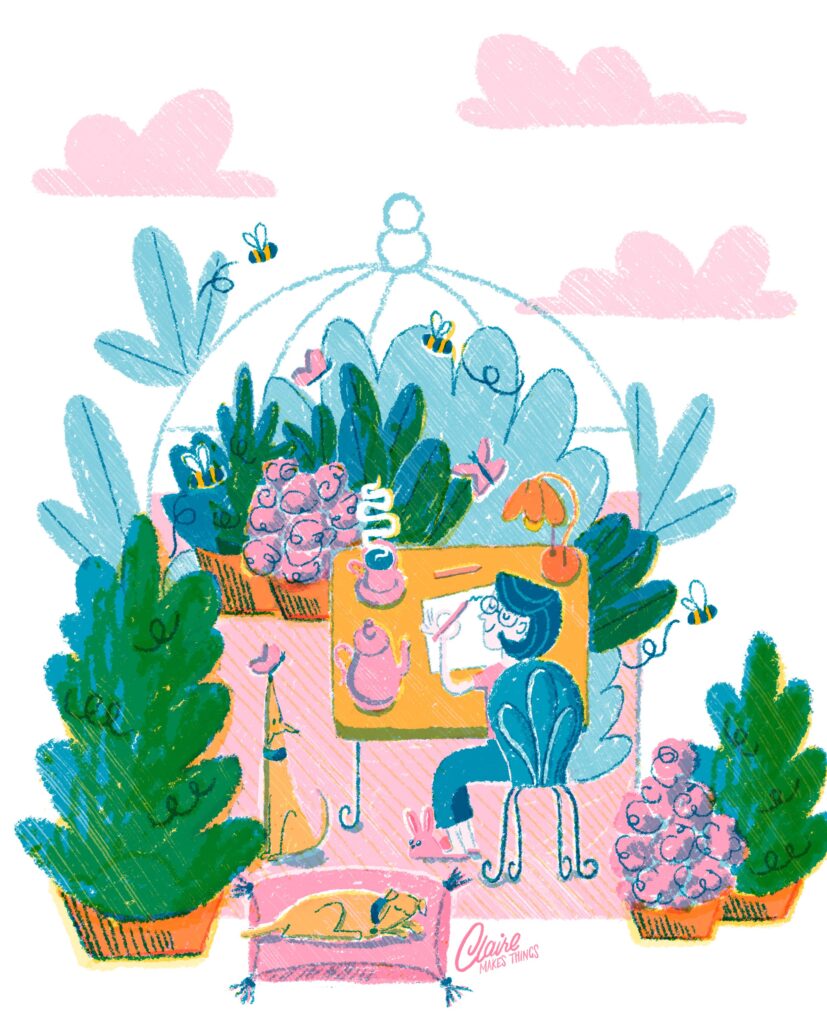 10. Drawing with shapes
Alright, here's a lie: I took this class a few years ago, but it needs a mention (this is also a reminder to myself to finally check out Roman's other classes) because it stuck with me, and is honestly worth rewatching. This class is about how to create two-colour illustrations (in this case in Photoshop, but you can use whatever you've got on hand) and use of negative space. It is all about drawing by adding and subtracting shapes, instead of looking at lines. It completely changed my perspective on how to look at shapes on a canvas, and I still practice using this technique in my illustrations all the time.
I hope this list of 10 Skillshare classes to improve your illustration skills was helpful and that you've found something here that you can use. Are you taking a class? Don't forget to leave a review and some feedback; it helps teachers make better classes and keep creating. Don't have Skillshare yet? Join me on Skillshare here to access all of these classes + lots more.
This post contains affiliate links; this means if you click and buy something: I may receive a commission. But I promise; I actually do love these classes to bits, please check out the teachers and their incredible work. Do you want to recommend a Skillshare class you love? Send me an email and I'll have a look!